"10 years ago I took a risk by starting this business. I had a vision for what I wanted to achieve but I never could have imagined that PXL would become the innovative company it is today. I owe my deepest gratitude to our employees, partners, and clients, both past and present, and to our sister company Studio City PXL, for helping PXL reach this important milestone. I'm proud of the remarkable campaigns that we have worked on over the last decade, but we are just getting started."
- Matt Michalowski, President and Founder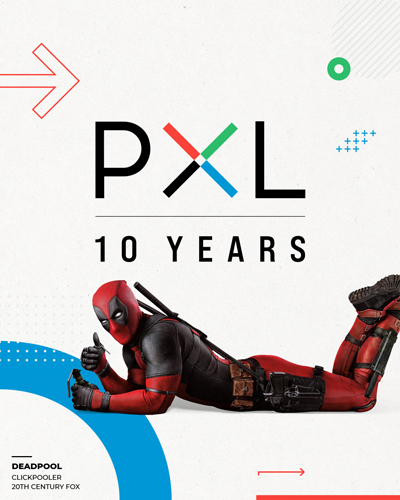 10 Years of PXL
PXL is celebrating its 10th anniversary, and it's safe to say it has been quite the incredible journey! Cheers to future achievements, past glories and another decade of creativity, teamwork and success. Here we remember some of our past projects, campaigns, and wins throughout the years. Thank you to everyone who made our achievements possible - your talents, hard work and dedication does not go unnoticed.
Web Platforms
Throughout the last 10 years, PXL has had the opportunity to design and build web platforms for the world's largest entertainment companies and brands that have been visited over 150 million times.

Events & Experiential
From immersive virtual events to in-person activations, PXL is always pushing into cutting-edge spaces that have made our campaigns stand out. We built a massive social wall at a The Weeknd concert for Vevo. We built experiential activations at Comic-Con for 20th Century Studios in support of The Peanuts Movie. PXL has helped our clients reach massive audiences with our digital-first approach to experiential and events. Continuing our tradition of innovation, in 2021 PXL launched VX, a metaverse platform for building immersive digital experiences with limitless potential. As the metaverse continues to prove itself as the next wave of technological innovation, PXL is excited to be on the edge of this frontier.
Community Engagements
Creating virtual university campuses. Hosting online fundraising charity events. Top-to-bottom content, usability, and UI overhauls of government agency websites. PXL's innovative and breakthrough solutions cater to every type of client. Over the last decade, clients from The LA Philharmonic to the State of New York have entrusted PXL's best-in-class team to execute their creative vision and get the job done right.